Is currently residing on my forehead.
Don't believe me?
I actually took pictures to prove it.
Look:
Ok, not too terribly bad just normally. (aside from the fact that I'm not wearing any makeup) But if I dare to show any facial expression, especially something that involves raising my eyebrows (and trust me, there is always a good deal of eyebrow raising around here), it is unbelievably bad.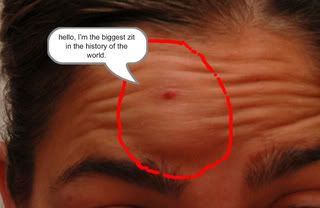 See? I told you.
It looks like one giant pocket of botox has landed smack dab in the middle of my forehead.
"It's the botox. I can't show emotion for another 2 hours."
(name that movie)
Dear ginormous zit on my forehead: please go away. As quickly as possibly.
And feel free to take my allergies with you. Thankyouverymuch.
Am I the only one who finds it horribly unfair to be dealing with typical teenage issues in my 30s? I mean, isn't that stage supposed to be over?
*sigh*
Oh well. At least I don't have to worry about it impeding my social life. HA!
Now there's a benefit to being old and married.