I think I vaguely mentioned in a past post that we inherited a boat. If not, then hey-guess what? We inherited a boat! Aaron would call it the boat he "grew up on", despite the fact that he was I think 13 when it was purchased. Anyway-it was the Talmage and Barbara family boat. The last couple of family summers boat. An now-it is parked on the side of my house! As we live in the middle of nowhere and do a fair amount of driving, we often pass at least 3 boating stores, thus Aaron and I have talked about boats; about how much fun his family had, but how it just wouldn't be practical for our family, even if we could afford one. And even if we could afford one we'd then have to purchase a vehicle with which to pull it. And THEN there is the cost of gas (for said vehicle and the boat), and upkeep and all the other things (life jackets! Oh wait "PFD's") that are either necessary or wanted in conjunction with a boat. Fast forward to a couple of weeks ago. Dear FIL calls and says "hey, come get your boat", then calls again and says "I'm on my way, I'll park your boat in front of your house!" He arrived the next afternoon. Surprise!!! And what a fun surprise it has been. After sitting parked in a friend's barn for entirely too many days, we finally broke out the boat!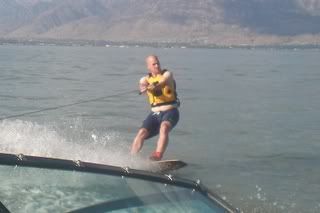 Wanting to make sure that everything was functioning well, and that I wasn't totally clueless about boating, we took the boat out-just the two of us-for a little test run before daring to take the whole family. Aaron and I spent Friday evening out of Utah Lake, just the two of us! What a blast! Although we always have fun together, this was such a treat! As Aaron said "BEST DATE EVER!" I'll leave it at that.
So Saturday rolled around, and since Aaron had now broken free from the UMA chains, we had the need for an afternoon/evening out. Hmmmmm….what do do? Go boating! ;)
We invited some friends out and took off. Bummer that some friends had to bail, but at least I didn't have to sit next to a certain very slim someone in a bathing suit! (love you!!) I have to say again-it was a blast! Not only did I get the chance to ski (which I love, although I'm very rusty on it!), but I also wakeboarded for the first time as well. Maybe one day I'll also get that whole slolam skiing thing down, but Saturday saw no progress in that department! Aaron trusted me to drive while he boarded-whew! Talk about nerve-wracking! But hey, he tried me out on Justin first, and since I didn't kill or seriously injure Justin, I guess that was good enough for Aaron,. Justin-you are a good sport! Anyone who will let a first time driver pull them when it's their first time being towed behind a boat, AND smile like that, deserves a big gold star on their forehead! : )
Anyway-we had entirely too much fun (even though we missed some of our good friends-next year for sure!), and fortunately Rheanna was smart enough to bring a camera as somehow I forgot to do so-two days in a row! So the fun pics are thanks to her-and are the reason she isn't in any pictures. And double thanks to Rheanna and Justin (and the parents!) for providing the transportation to tow the boat! We literally couldn't have gone without you guys! Thank you!
We are really looking forward to next summer when we have enough weekends to do plenty of adult boating trips with all of our wonderful friends here!