I guess there are many, it just depends on which moment you happen to catch me in.
Maybe I'm just trying to cope with the whole "back to school" thing. The four oldest kids are going to public school this year.
We have kind of a reversal of roles thing going on here. My kids are very excited to go to school. I'm so bummed that one week from today summer vacation is officially over.
Ironically, when then end of May rolled around, I was the one throwing a party that our school year was over and the kids were slightly bummed. Hmmm....I'm sure a therapist would have a heyday with that one.
To get me through these weeks of chaotic anticipation, I've turned to two good old friends of mine.
Oh dear. Yes people, that's a case. A whole stinkin' case just for me! Bwahahahahaha!
The timing on this gift (yes, someone gave me this!), was impeccable. Especially because my oven is not working for some reason. And since baking is my therapy (hey, it's cheaper than counseling, and tastes better), things could get interesting around here.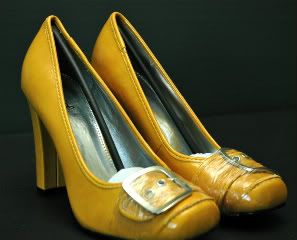 *Swoon* Could you not just die?!
I
am nearly dying, because despite the fact that I got these in the same size as my red ones, they are too small. That is not good. Now I just get to bask in their glow until I can exchange them and let my feet enjoy all that glorious goodness.
At least while I wait, my 4 yr old has promised to entertain me by practicing his fire dance with a closet rod. Sounds like a great way to spend part of these last days of freedom.
Oh, and it's not on fire, just in case you were wondering. I've seen this kid in action with
scissors
, you really think I'd let him play with fire?