I hate doing laundry. Actually, I take that back. I really don't mind doing my laundry b/c I have a rockin' washer and dryer. It's the folding/putting away part that I stink at. For some reason if it is something other than towels, I just HATE folding it.

Thus my anticipation for the dryer to finish yesterday to *let* me fold the clothes was nearly unbelievable. Why is it suddenly fun to fold laundry? Because it's TINY! :) And once my girls saw what was going on, they could not wait to sort and help fold the laundry. Amazing what a difference it made!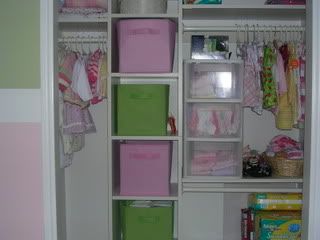 (nursery pics to come once I get a few things up on the walls. and I just noticed my Reese's stashed up there on the shelf! lol I wondered where I had put that....)

So hey, even if everyone else's clothes end up stashed behind the couch and unfolded for days, at least you will always find clean folded towels neatly put away, along with a well organized baby wardrobe!

Oh, and my apologies to my husband who probably got excited and thought the post said "Iron-ing". No, no such luck. Still didn't do that either.