I know. I'm sure this entire thing is totally my fault. I have a sweet tooth. Actually, most people have a sweet tooth, my mouth is full of them! I am the Sweet Tooth Fairy! :)

Apparently most of my kids have inherited this from me. Either that or I've trained them into it. Whatever. Thankfully they are all plenty healthy, and will gladly gobble up fruits and veggies when offered as a snack or with meals, but sometimes you just need something a little sweeter. You know, like when I was a kid and used to sneak into my grandma's kitchen, get to the sugar canister and just eat a spoonful of sugar. Hey-I blame Mary Poppins for that one. So in the spirit of passing blame, I suppose that one day my kids will blame me for this. You know, because I do crazy things like dare to have powdered sugar in my house. And don't get me started on the chocolate chips.

What is "this" exactly? "This" is what happens when I sat down to nurse the baby yesterday. (you can only imagine what goes on when I dare to go to the bathroom because then I am behind a locked door!) I hear the kids playing nicely, hear them going downstairs, being there for a bit, then I hear Alaina coming upstairs. She stopped abruptly at the top of the stairs and yelled "LINCOLN! WHAT are you DOING?!?" Apparently Lincoln stayed upstairs instead of going down to play with the kids. (I know-bad mommy) Being in a spot where I couldn't just jump and run to the scene, and knowing that no one was dying because if they were there would have at least been an audible crash, I just shouted out to Alaina "What is wrong?" Apparently Lincoln had climbed up the counter (again), gotten in the cupboard of baking things (again), but this time instead of raiding the chocolate chips, he decided to go for the gold with the powdered sugar. Yum! Can't say I blame the kid, it's good stuff. I am very impressed that he managed to eat it straight without ever coughing. But the real kicker is that he spilled gross amounts more than he ate. All over. the floor. the counter. himself. Pick a place near the kitchen (including the dining room carpet and table) and it was covered with powdered sugar. Since I didn't want to listen to the baby scream and she wasn't done eating yet, and since you can't very well clean up a mess that size with one hand, I assigned Alaina the job of trying to sweep up what she could manage until I could get to it. What a good girl-she sure tried. (in other words, the dustpan was put away caked with powdered sugar, which was then ALL over under the sink since that is where the dustpan is stored, among other things) This is a glimpse of the cleaned up version that met me when I put the baby down (hey-you know you would've grabbed the camera too!):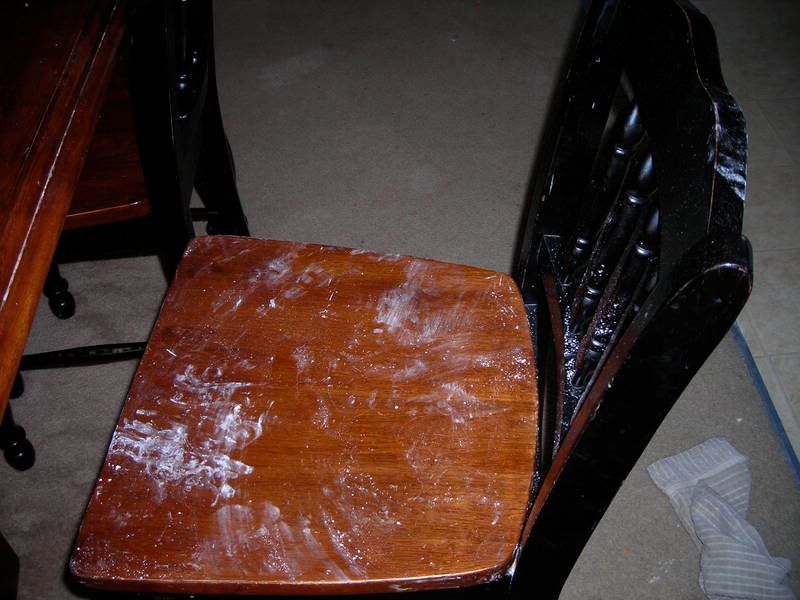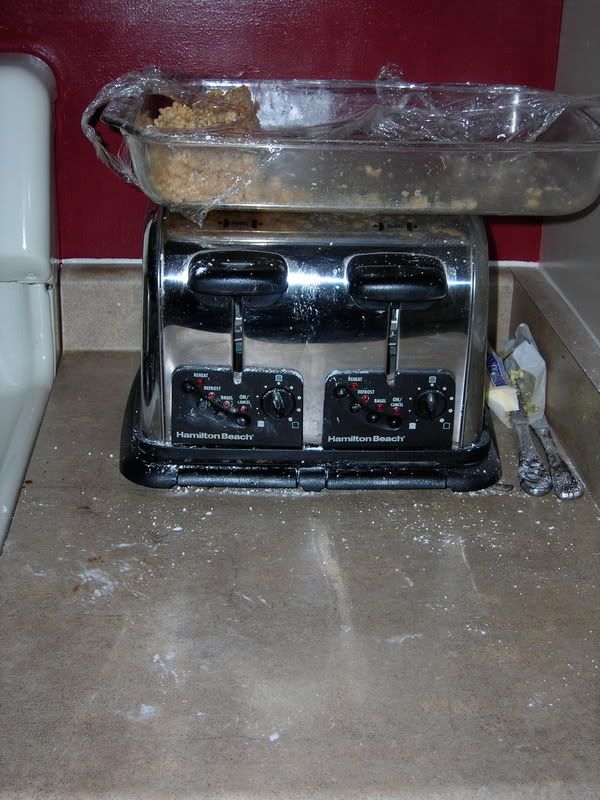 (After the toaster had been cleaned, and the counter wiped off-but notice he moved the rice krispy treats and the butter that was sitting out out of his way before climbing up on the counter)

Well, in the less than 5 minutes it took for me to finish with the baby, get her tucked in for a nap and get down the hallway to the kitchen, apparently the need for sugar spread. Dallin was standing in the kitchen with powdered sugar all over his face, shirt and pants.

"Dallin-are you eating powdered sugar?"
"no."
"It's all over you. I know you've been eating it. Where is it?"
"I don't know. I put it away."
(mean old mom opens the cupboard, and the powdered sugar isn't there.)
"No Dallin, you didn't. where is it?"
"I don't know."
"Where did you put it?"
"I don't know."
So we go on the hunt for the bag. (in other words, I close my eyes, breath in deeply, and wait for that hormonally driven need for sugar to surface so my body can just float it's way to wherever the hiding place is) It is finally located-behind the couch. Because you know that's what behind the couch is for. Hiding while you eat powdered sugar. Unless the couch is a dark chocolate brown color (see-there's the sugar fix again-even in the furniture color), and you leave the evidence smeared and sprinkled all over it.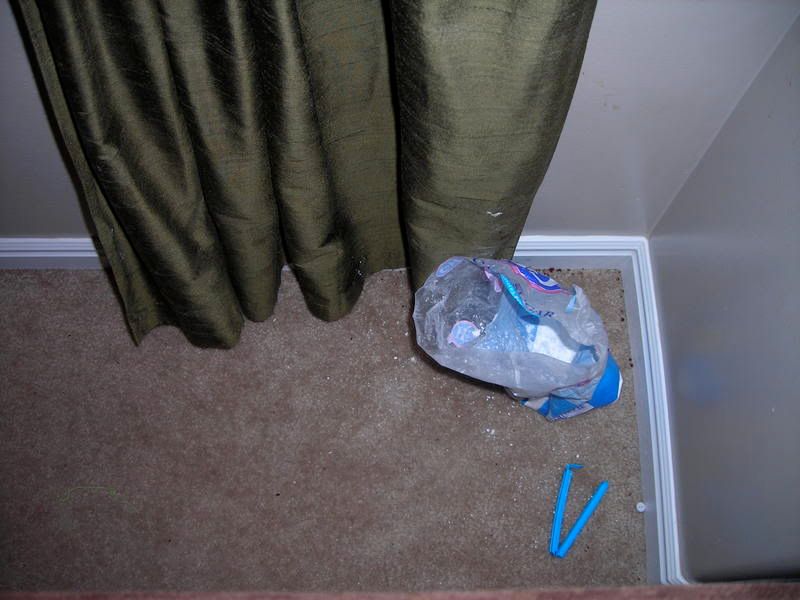 Look closer-a double whammy-chocolate cake crumbs!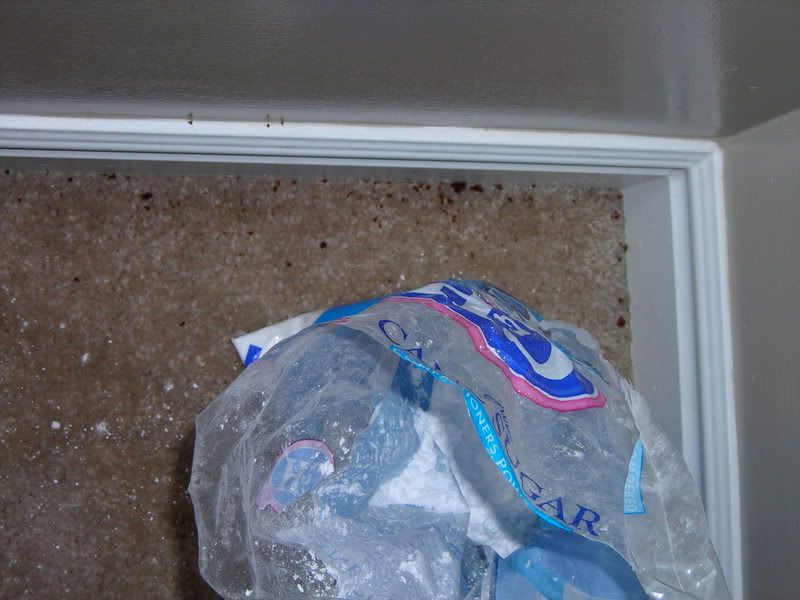 But hey-we did figure out who ate the last piece of chocolate cake, and where that took place. (impressive that he did that w/out a trace of chocolate on him or his clothing) And the good news is that the sugar just brushed right out of the drapes-thank goodness! We paid entirely too much for those suckers for them to be ruined by sugar. And, well, thank heavens for microfiber furniture and oh, the power of the Dyson. Phew!

Oh, and after washing the kitchen floor three times, with a good Swiffer wet-jet follow up, you no longer stick to it.

Aaron deserves a gold star on his forehead for just happening to bringing home a big bag of M&Ms for me yesterday. Perfect timing! Because as everyone in this house obviously knows-nothing soothes like sugar! :P