Talk about time flying! Today marks 11 years since the day we tied the knot. That means I've been married over 1/3 of my life! lol
For a rousing review of some of our past anniversaries, you can read Aaron's run down here. To celebrate this year, we're doing something a little different-making a commitment that to me is much more frightening than marriage ever was! ;) We're buying bikes. No, bikes aren't that scary, but the reason we're getting them is. Aaron is competing as part of a team in a triathlon in a couple of weeks (as you that live near know all too well!), and he's talked me into joining him in doing an entire triathlon next year. With the purchase of a bike-I'm committed, there's no backing out now. EEK! Honestly though, I'm looking forward to doing something for "us", and as a friend mentioned the other day, it's a great way to celebrate hitting 30 this year-one event for each decade. So, aside from bikes, and maybe a box of Lucky Charms ;), we're just celebrating this year by moving on......

And for the picture people (excuse the picture of a picture-we are old enough to be pre-digital days),
Then:
August 5th, 1997


And now (well, 9 months ago anyway!):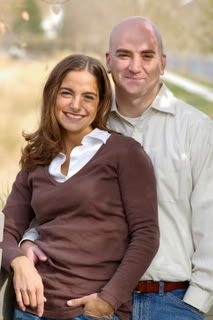 I was going to write a big memory of the day, and how things have been different than we expected over the past 11 years, but I've decided just to sum it up by saying that I wouldn't change anything. It's been amazing, and I look forward to many more years with my best friend.

Love you babe!