So I kind of went into hibernation mode last week. Emotional instability does that to me. But I really wanted to say thank you to all of my cute friends who checked in on me! And for those who helped out with the kids last week, you are wonderful! It is such a blessing to be surrounded by such amazing people!!

Now-worth sharing after a week and a half....

I saw this:


on someone's blog.
(Who knew celery could be so inspiring? ; ) Thank you Heidi!! lol)
So, well, HELLO! Who wouldn't want that?! And considering how M&Ms can fix just about anything (thank you MaryAnne!), this puppy has got to be good for the same!

Here is the biggest advantage of being pregnant (and my personal favorite), I did not feel the least bit guilty that I wanted that cheesecake badly enough that my mouth actually started watering. And to top it off, I'm *supposed* to be putting on weight! YAY! Yes, it's a bit awkward to pack on the pounds when all of my friends are little skinny-minis who still think they need to lose weight (riiiiight), but I love that I can eat what I want and not feel the least bit bad! haha! : )

So, back to the cake. Unfortunately, the picture I saw was only that-a picture. With no source. dang! I took what little info I could pull of the downloaded picture code and started my search. I probably spent a good 30 min tracking down what this thing is. The good news: I found it! The bad news: It is made by a cheesecake company in England. Not to mention the 8" version starts at roughly $45, so even if it was possible to have one delivered, I could never indulge that much! I was really hoping that it was a picture from a recipe site somewhere. Oh well. What's a girl to do?? Improvise!

I've been tweaking a chocolate cheesecake recipe anyway, and what better way to tweak it than to make this the finished product. A sweet husband stopping at the store for me and 24hrs later, voila!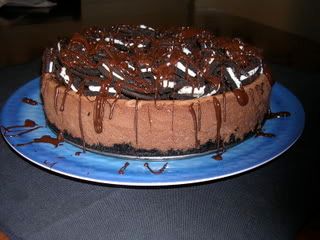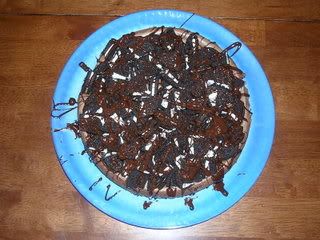 To. Die. For.

As Malia keeps so kindly pointing out, mine isn't as tall as theirs, theirs is actually built on a cookie, I just wanted a crust. And she noted that my chocolate drizzle is messier than theirs. I'm all for messy chocolate.

Aaron found it a bit "too rich", but I'm going to go with "just right". And the flavors did meld a bit more after it set overnight, so he just might enjoy it more today than he did last night after only chilling for a few hours. (yes, it is only noon and I've already had a piece today)

There is very little that is better than chocolate therapy.