Yay! I'm so excited! I've started cruising the great baby store blogs (who knew they had them?) and have found some very fun products out there! There is a great store called Babinski's Baby up in Foothill Village that has some wonderful finds. My sister filled me in on the fact that they had a blog when she entered to win some Robeez. I posted, but didn't win that one. But she did! And she gave them to me! What a great sister. : )

This time around, I did win! Ok, I'll admit that I mentioned that I was expecting my seventh baby. But hey-it worked! I am so excited too, because it is a product that I have adored since I was expecting Lincoln 2 yrs ago. Check it out: The Twilight Turtle.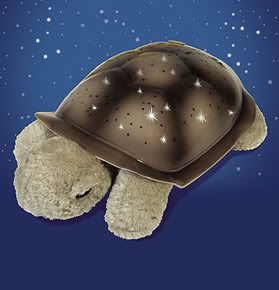 Isn't it the cutest thing ever? It will be the second thing that I have for baby's nursery (no, she still doesn't have a name), and ironically, the first thing is also a turtle! lol We have a tradition of picking up something for the baby on the way when we happen to be in Disneyland and I'm expecting. And let's face it, that has happened enough times to make it a tradition! : ) Since we didn't know at the time of the trip if this baby was a he or a she, I went with one of my favorites that could go either way. We are not big stuffed animal people, but some things are just too cute to pass up. Thus we ended up with Squirt, the little turtle from Finding Nemo. So, we have a turtle, and a turtle, and hopefully in the next two weeks we'll have a room in which our turtles can reside!

While you're out cruising blogs today, check out Babinskis; www.babinskis.blogspot.com. A wonderful store, well worth a look!