So it's only been almost a week and I'm finally getting to it!  Geesh!  Hate it when life gets in the way. ;)
Last Sunday we blessed Charlotte.  It was a wonderful day-something that was very needed in the midst of all of what's going on at the moment.  Nothing fancy or exciting, just some of the fam and a close friend.  But we were super excited that my older brother drove all the way out here, even if he did only stay for about 15 minutes.  Thanks for coming, we were very happy to have you there! (even if I do apparently owe you $50 for wearing a shirt to church)
It was great to have Aaron's brother out with us too-it was fun watching the two brothers and Aaron's best friend bantering back and forth all afternoon.  Nice to see the mood lightened a little bit, despite his recent diagnosis.
My sister spent the night at our house on Saturday so that we could go to the temple and have someone we trusted home with the kids (including baby!  eek!).  She was great-and still talked to us when we got home late Saturday night so we take that to be a good sign.  heh  Having her there on Sunday morning was a great help in getting everything ready to go for lunch right after church, as well as getting all the kidlets ready to go and out the door with time to spare.   Not to mention she made some very cute cookies! Thanks Kel!  (make sure you see my favorite picture of her cute family...Nick was SO excited to be here!  ha!)
Though I had finished Charli's dress months before she was born, I realized on Friday that I had never put buttons on the back or made the shoes.  Whoops.  Thankfully I was able to knock that out in a little extra time on Saturday.  The shoes weren't exactly what I had planned (can we say improvise??), but they turned out better than I expected!  We went from this:
To this: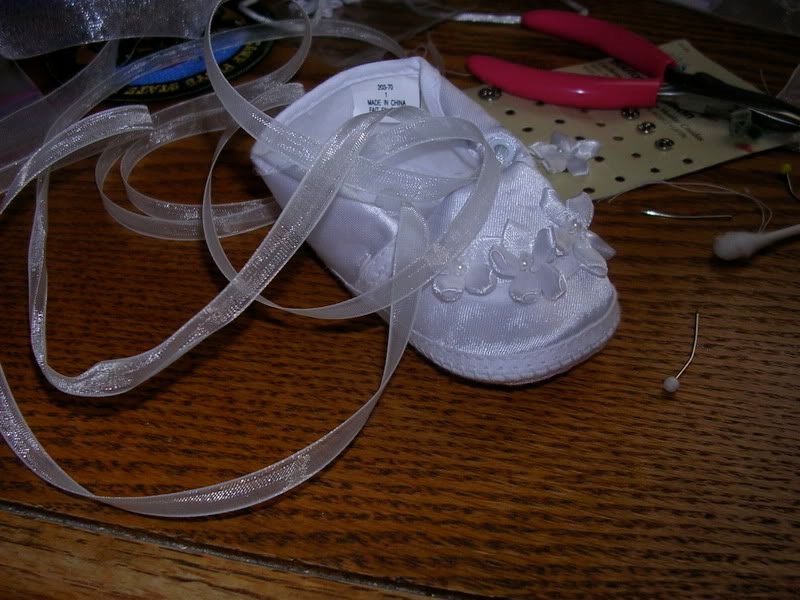 And they look darn cute on!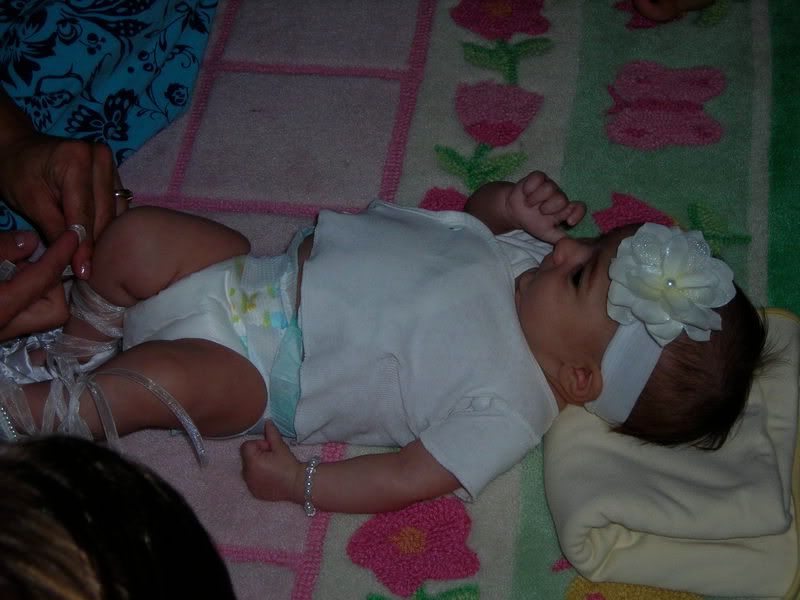 And of course there had to be matching accessories in the form of the flower headband and the bracelet!  This is where having a little girl is FUN!  And I think her two doting sisters enjoy it almost as much as I do.