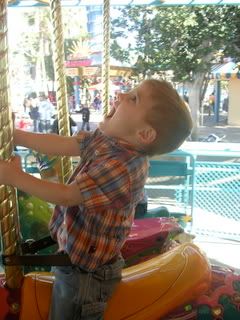 I realized that I skipped my little Dallin's birthday post! What a slacker mom I am! I'm going to blame being so sick over the last week and a half and make up for it now! In the tradition of the past few birthdays, here is Dallin's story. (*warning-as in the other birthday posts for my kids, this does contain a birth story. If you don't like those kind of stories, you'll want to just skip this post!*)

My cute little Dallin turned 3 almost two weeks ago. He shares Lincoln's birthday. THE Lincoln-you know, Abraham. Not our Lincoln. Which is apparently confusing to some of the grandparents. Like when someone pointed out to Aaron's dad that he had made a mistake and put "Lincoln's birthday" in October. The man must have thought my father-in-law was missing a few brain cells or something-everyone knows Lincoln's birthday is in February! : ) It took a bit of explaining as to why Feb 12 said "Dallin's birthday" and Oct 3rd said "Lincoln's birthday"! We still enjoy bugging our kids with this little tidbit. The younger ones especially can't figure out why we keep telling them it's Lincoln's birthday when we are singing to Dallin and they know that Lincoln won't have his birthday until October!

but I digress....

Dallin is now 3. Which is interesting because we use his birthday to gage a lot of things that have happened over the past 3 years. A move, then another move, surgeries, hospitalizations, family events. He seems to be a prominent marker on our timeline.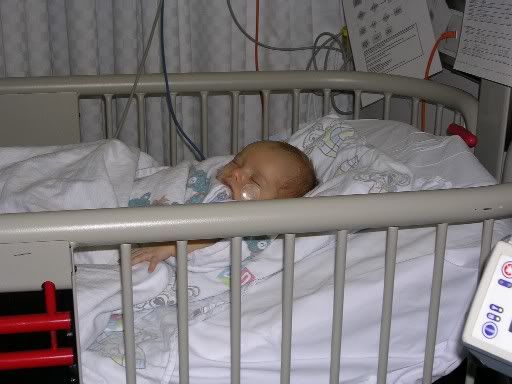 Dallin's birth story really begins a couple of weeks before he was born. Life was good, we were quite settled in Sugarhouse. All was well, I was doing great, and life was just rolling along as we prepared for and anticipated the upcoming arrival of our 5th little baby. Then things very quickly changed. An opportunity to move presented itself. We had always known that living in Sugarhouse was a temporary situation, but never quite had any concrete plans for when it would change. The few times we had tried to move forward we felt very impressed to stay where we were, and even the few times we were obnoxious enough not to listen closely to those impressions, things worked themselves out so that we just couldn't ever move-usually missing it by just a very small amount, including once when we were going to build a house and were a mere $1800 away from everything falling into place. It was trying to not feel in control of that part of our lives, but we had finally settled in again and quit pushing *our* agenda. This time, things worked out. It was a situation that had presented itself before, but again, had just never worked out. This time it did. We made plans and moved forward to purchase the house that Aaron grew up in, out in Sandy. We were excited about the move, and the prospect of a more family-oriented neighborhood, kids nearby for our kids to play with, and being just a bit more away from the business of living closer to the city. The timing wasn't exactly optimal (who wants to move at 9 months pregnant?!), but we decided we would go ahead and make the move.

The weeks of packing and planning and preparing the new place were hectic. One of the most frustrating parts for me was that no one wanted to let me do anything! I am not (typically) one of those 'sit around with my feet propped up and taking it easy' kind of pregnant women. It just doesn't work for me. So at 35 weeks along, I was busily packing everything that I had just set up for baby, along with the rest of the house, hauling boxes downstairs from the attic, and taking as many trips to Sandy as I could to try and clean out and prepare the house. We managed to sneak Aaron's dad over to help out with some electrical things, and we put his brother to work scrubbing walls one night. I think he was afraid of what might happen to him if he refused when a 9mo preggo woman handed him a bucket and rag and said "here-you wash walls!" : ) Needless to say...he didn't come back until we moved in! ha! I was able to get some painting done, but fortunately my family was extremely generous with their time and efforts in helping us prepare the house-especially with the painting. Honestly, I I think it kind of freaked them out that I was 9 months pregnant and painting! They took care of as much as they could, along with helping with the kids to allow us to move gradually. We did eventually have to cave in and rent a truck for the big stuff, which we did on Saturday, Feb 5th, when I was 37wks along. Coincidentally, that day was also 2 days after the furnace went out at our home in Sugarhouse! We hadn't planned on actually moving in to the house in Sandy until the 5th or 6th, but found ourselves sleeping overnight there two full days before that, living out of one or two boxes that we knew contained the necessities. Nothing like sleeping on the floor in a half-moved -in house while you're still trying paint when you are 3wks away from your due date! : ) Fun times.

As is turns out, the timing was optimal. Once the furnace broke there was no turning back, no dallying along the road to getting us truly moved. And it was nice being close enough to my due date that I was more than comfortable moving as many boxes as possible in hopes of bringing on the beginning of labor! (although yes, I was still being lectured by everyone to take it easy). On Friday the 11th, one day shy of having been "moved in" for one week, I had been trying to encourage the sporadic contractions that had been occuring over the previous 48hrs. Even after 3 hrs of scrubbing the kitchen floor with a toothbrush (just for the record, the grout was a very pale pinkish-beige color, NOT dark gray!) on my hands and knees, things still weren't regular. I was ready for a baby, so I was trying to convince him he was ready to join us! That Friday afternoon Aaron had a CAT scan scheduled at the hospital in preparation for his upcoming nasal surgery. Since it was my delivery hospital, and I was hopeful, we called my sister's wonderful husband to come and sit with the kids while I tagged along with Aaron. He was the only one not stuck in an office that afternoon and he was generous enough to come and sit with the kids while we left, me hoping not to return home that evening! Aaron's appointment was taking much longer than I wanted, so in effort to keep contractions coming and to move things along, I decided to go walk. Keep in mind it was February, cold and snowy. The hospital was also up in the avenues, so walking laps around the hospital and the connecting blocks included quite a hike as I drug myself back uphill each lap. I finally decided after an HOUR of walking (waddling) laps, that I was tired with that, so I went back to try and find Aaron. He was just finally finishing up and still had to check out and finish paperwork, so I told him I'd just meet him upstairs at labor and delivery. I got upstairs and went through the joyous routine of checking in. I have to say that I enjoy-oh so very much-that sympathetic look on the faces of the nurses when I check in and am still smiling and functional and acting normal, and they are all thinking to themselves "this poor girl is going to go right back home-she's not having a baby anytime soon!" I was checked in at 3cms and 40%, which for me is a great start! Typically if I can get to 3, I'm having a baby that day! They suggested I walk around and see if things changed any, so for an hour we walked the halls while I sported that stylish little hospital gown, with another wrapped around my back to spare anyone an accidental peek! After an hour, another check showed me at 4cms, so I was official admitted and prepped to go! My dr was called, and bless his heart, he agreed to be the one to deliver despite the fact that it was Friday night and he was not on call. (yet another reason I love having him as my dr!!) When my body gets going, it tends to start a little slowly, but once I hit 6 or 7cms, it usually goes quickly, so he figured he'd be seeing me fairly soon. The nurses were excited to have one more delivery before their shift ended at 11pm, and I was just glad not to be sent away from the hospital.

Well, things dragged on. and on. and on. 3 hours after hitting 4cms, I was still contracting regularly, but was also still just 4 cms. Annoying. At that point the resident agreed to break my water to see if it would speed things along. This was not new to me, the only time my waters have ever broken on their own was the first time, so this was just par for the course. The weird part was that since we had taken our big family car to the hospital, and my dad had come up to get the keys so my parents could take the kids to their house, my dad was there when they broke my water! At least the resident had the presence of mind to suggest that my dad move up by my shoulders when they were doing it-I don't think any of us had even connected to the fact that he was standing down by my feet! EEK! A little too close for comfort with that! He stayed while it was done, then once he knew we were on the road to delivery with no turning back he took the keys and left!

By now it was around 7 or 8pm, and we expected baby to arrive quickly. Unfortunately, Dallin had other plans. Stubborn little stinker. So, we defaulted to pitocin. My best friend and worst enemy during labor. Best friend as I have yet to be able to deliver a baby without it, worst enemy as it kicks things into high gear, pretty darn quickly. And that's exactly what happened. My nurses were bummed when they ended up leaving at the end of their shift and he still wasn't here. But they were replaced by a girl that Aaron went to high school with (who was an angel!), which was nice because it gave Aaron someone to talk to when I zoned out. By about 11:30 I started getting really uncomfortable, and knew I was trying to deliver another posterior baby. I had very vivid flashbacks to my delivery previous to this (Jacob), and knew I was in for a challenge in the last hours of labor. I realized that if I was going to make it through this process again, I was going to need to be able to really relax. I put on my headphones and tuned everything out. I do not recall the time that passed until a little after 1 am. I was fortunately able to relax enough that I just made my way through things and totally zoned out. It was great! But after 1, things started to really get painful. Aaron knew that things were starting to happen b/c I took off the headphones and got off the bed and mentioned that I was starting to really hurt. My dr was called and given the head's up on what was happening. I spent as much time as I could leaning over the little table thing (which I think I may have broken-whoops!), and hanging on Aaron, trying to move as much as possible and rotate my second little posterior baby. It took quite some time, and to be honest it was fairly difficult to make it through that last hour. I started shaking uncontrollably, which was annoying to me, and a bit scary to Aaron as I had not done this before. I suddenly realized that after weeks of packing, days of moving and heavy lifting, and a good amount of time hiking through the avenues-I WAS EXHAUSTED! (note to self-don't wear yourself completely out *before* labor gets hard!!) I found that I really had to dig deep within myself to make it through the end of this labor. I struggled more than I had with my other natural births, I think because I was so very worn out. Thankfully Aaron and my dr were both reminding me that if I was in this kind of pain I was very near the end, and that I really would rather not deal with an epidural at that point. Which I did contemplate, but I also realized that there was no way I could just lay down and be still while it was administered when I was needing to move around to deal with the contractions that never tapered off.

I finally hauled myself back up on the bed to be checked, I was just about ready (not quite 10cms), but baby was still posterior. After having had Jacob manually turned, I knew the discomfort that brought, and was thrilled to know I could avoid that as the next few contractions helped baby to turn enough to delivery without being rotated. What an overwhelming sense of relief I finally felt as Dallin slipped into the world at 2:37 that morning. 6lbs, 15 ounces, 20inches of screaming little baby boy! After nearly 20hours of labor (not fair for a 5th baby!!), he finally relented and made his appearance. I was really not happy to hear that I tore as he was turning and delivering, and even less happy when I head "little shot of lidocaine locally" in preparation for the stitches. After what I had just done I had no desire for a shot-especially there! I passed the baby off to Aaron, afraid I would drop him, as I was shaking so hard and I wasn't sure how my body would react to that lovely little shot. The great news was that the shot was over before I even knew it was given. Whew! Thank you adrenaline! lol I did feel a couple of the stitches though-that was not the most pleasant thing in the world. But hey-I've felt worse! : )

All in all, one of the most tiring things I've ever experienced, but I love looking back and realizing just what my body is capable of. And honestly, I wouldn't change it for anything.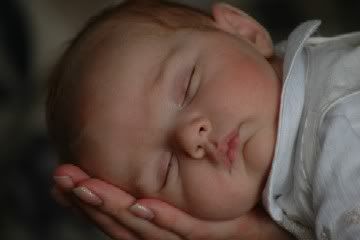 So Dallin-though I'm 12 days late in this, Happy Birthday bud. Thanks for being the spunky, crazy and energetic little boy that you are. Thanks for keeping us laughing with your sound effects and constant narration of life. Love you kiddo!