Hi, my name is Catey. ("Hi Catey") I have a shoe fetish. I love shoes. I really do! It used to not be so bad. As a kid, I had a few pairs, you know, the necessities; church shoes, tennis shoes, sandals or jellies in the summer, and some boots in the winter. It wasn't until my teenage years that I added to the colleciton, you know, your style needs become a bit more varied. By the time I got married I had nearly 50 pair of shoes. My poor husband didn't know what to think! He had the standard guy collection, which is strikingly similar to the kid collection! Over the years I finally started streamlining-getting rid of the things that weren't worn very often (or really at all!), and finally cleaning out the closet. I was down to around 20 pair-including the rubber slippers that I had picked up for me in Hawaii to stash away, and the multiple pairs of flip-flops that wear out so quickly. That was until I found a lovely little thing-a new option in home parties. SHOES!!! And, well, here I am, adding to the closet again. I did take a big step last week, and passed 11 pairs of seldom worn shoes on to someone else. (applause from group for making an effort) But really, it was mostly in part to make room for my new shoes! (*gasp*) The bonus in all of this-they have been free! And really, how can you blame a girl for taking advantage of free shoes? you can't! So, here it is, the spoils of my adventures....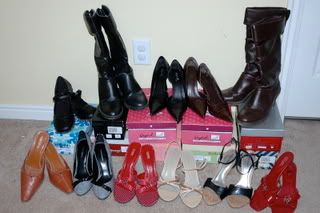 (not including the boots and mary janes for each of my girls)

To the lovely ladies of 4theloveofshoes, many thanks for expanding my shoe selection! The other certificate for free shoes is burning a hole in my purse still! The shoe parties are entirely too much fun! And seriously, if you have missed both of them that I've had-hit up one of the other neighborhood ladies that has booked a party and mark it on your calender NOW. Too much fun to miss!