They have flown by, and already she's almost 7 months!  Ack!  
At the official 6 month check-up Charlotte was up to a whopping 15lbs 6oz, and 25.8inches long.  
Hooray for making the size 2 diapers last! : )
She has decided that mobility is massively under-rated, and is trying to prove this by getting around as much as possible.  The kids are now threatened with death if they leave the door to the basement open.  I now have to make sure all those little choking hazards are not on the floor.  And why is her favorite place to scoot/roll/slide/inch to the edge of the refrigerator?  Seriously-even when I wipe that spot on the floor I swear it is nasty within hours and those little tiny fingers love to grab the bottom of the fridge and sweep around under it.  Right before they go in her mouth.  Of course.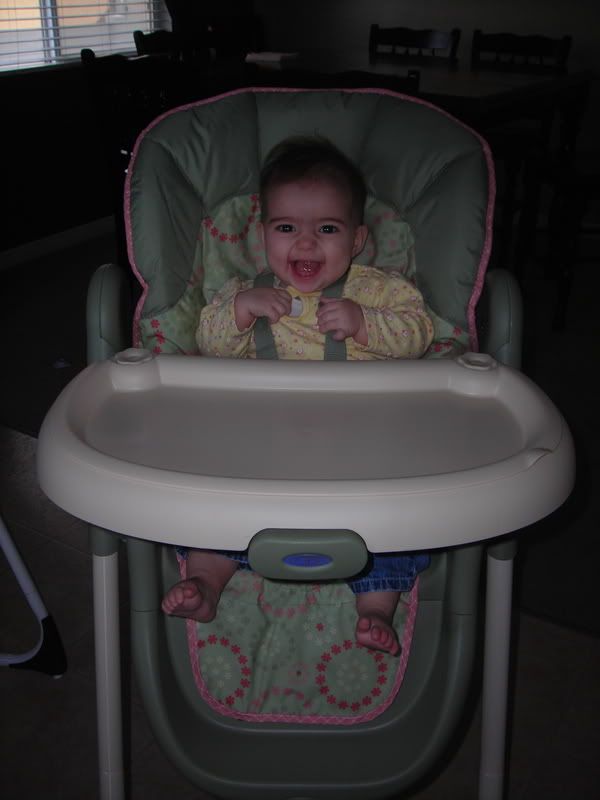 Charlotte is loving "food".  I say "food" because really, how close to real food is pureed peas?  Ick.  Although she loves peas.  Just as much as she loves all of the yummy fruits.  Who'd have thought?  We got the camera out to get a shot of that lovely "WHAT are you feeding me?" face that always come with the green veggies.  We didn't get it.  Just smacking lips and a mouth wide open waiting for more.  
Who's kid is this??  She did get her first taste of graham crackers the other night and fell instantly in love with the mush.  
She is sitting up pretty well on her own now, and is occasionally trying to pull up on her own.  If you reach out to her she instantly grabs your fingers and pulls herself up to standing-why sit and watch the world go by?  
And hallelujah for sleeping better!